26
Nov
Macy's began using Apple iBeacon service in shops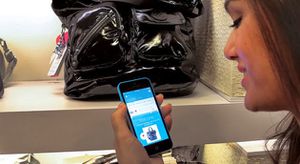 Apple's iBeacon system will seriously begin within the first shops. The American brand Macy's, will set up the terminals needed soon. Customers with the Shopkick Application will be notified on their iPhone of certain promotions and other information. They can also access the list of products they liked and which are available in shops. So far, only Macy's shops on Herald Square in New York and Macy's Union Square in San Francisco will test iBeacon.

For this test phase, the functionality will be limited. Customers will be notified at the time of their entry into Macy's. If the service takes as it should, it may be extended further. Several iBeacon transmitters could be placed in each department. The iPhone could then notify the customer of a discount on some shoes once the customer in question will be in the shoe department.


For its part, Apple plans to introduce iBeacon soon in the Apple Store. We do not know whether the United States will be the only serviced or if the rest of the world can enjoy it at the same time.
An article written by technology expert: Mohamed Elidrissi Elouafi, which you can interact with him on his blog over here or his twitter over here too. I would love to thank him for giving me the right to publish the article on my debut blog.


Give him a shot he knows everything technology all you need! And for everything fashion, you know you're on the right place!